"We need to give, and love – and do it over and over again," Sophie asserts. "And with my music, it just comes straight through, with no room for contrivances."
It's a bold proposition, certainly, but it's a proposition that rightly invites no shortage of scrutiny, especially when there are people out there who will dismiss Barker as just another Dido, trading all on the impossible highs that a novelty success might bring. What was that novelty success? That novelty success was that British Airways tune she sang back in 2006. 'Leaving On A Jet Plane'. It was all very cutesy of course; gently-strummed acoustic guitar, dolphins made out of clouds, attractive air-stewards cosseting equally attractive passengers, long, lingering looks out of the plane windows. And to a certain extent the flight theme continues with 'Seagull'.
But no contrivances? Well no as it happens and anyone who dismisses

Sophie as a one hit wonder will have forgotten that by the time the British Airways tune took off she'd already scored a sizeable hit with the platinum-selling album, 'Simple Things' with Zero 7 – the downtempo, trip-hop project put together by Henry Binns and Sam Hardaker.
So what's new?
May 2011 saw the release of Sophie's new album, 'Seagull' – a mellow collection of songs recorded with producers, Alex Pilkington and Mark Tucker responsible for releases from Blue Rose Code, Beth Hirsch, Custom Blue and The Willow, as well as electronica projects by Mark Pritchard and Flotilla. Rustling with languid, bass heavy grooves and sultry, honey-dripping vocals, 'Seagull' rejects the usual contrivances of fashion, scavenging instead on a more fluid and intuitive environment. Not that it had always seemed that way. Between 2007 and 2008 Sophie had tried working with a variety of people, none whom seemed to gel.
"There was a point when I wasn't sure whether this album was even going to come to fruition." That frustration finally lifted when she met Alex Pilkington and Mark Tucker, who co-run Ho Hum Records and also produced the record.
"It brought a great sense of relief and synchronicity – I'd found the producers and band I've dreamt of for years. " The band is made up of life-long friends, "a newly-formed collective of amazing people enjoying music and playing with their own feeling. The magic I'm feeling now is similar to what I felt at the beginning of Zero 7."
The result is a weightless and rather effortless collection of tunes, stripped back of artifice and almost as soft as the clouds that made up that British Airways classic.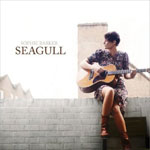 Sophie Barker ~ 'Seagull' Out Now

more info:
http:/www.sophiebarker.com

Report ~ Alan Sargeant for Crud Magazine 2011©