You, like me, probably watch the interminable reruns of the Band Aid video every Christmas and sit there thinking, 'who's that with the lanky blonde hair, and him, who's that?' Any gravitas the Band Aid supergroup had enjoyed seems to have diminished with every bauble we've ever put back in the box, every hangover we've ever conquered and with every cracker we've ever pulled. The band is now no more glitzy than the frayed strip of tinsel we've been dragging over the mantel since we were four. The Burns Unit, on the otherhand are a Supergroup (of sorts) whose light may never be dimmed, principally because the light of the individual members was never that bright in the first place. And this could be to their benefit.
King Cresote, Emma Pollock, Karine Polwart, Future Pilot AKA, Kin Edgar, Mattie Foulds, MC Soom T and Michael Jonhston might not fall into the Dave Grohl, Josh Homme and John Paul Jones category (or even the Siobhan Fahey, Glenn Gregory or Tony Hadley category) but their combined weight has produced one of the most solid releases of 2012.
"It's a supergroup made up of people who haven't had proper commercial success", explains Kenny Anderson, aka King Creosote, "we formed it ten years early, assuming one of us goes on to achieve great infamy. It's like just answering a random ad in a music magazine, like accordion player wanted, but everybody in the same band answered the same ad. I would never have considered playing with Karine Polwart, our paths have never crossed, but it works really well together. Two slightly different Scottish voices that fit."
The band – a prodigious cabal of A-List Scottish folk heroes and battle-scarred indie veterans (Delgadoes, BMX Bandits, The Orb) came together by accident, arising as a result of a one-week songwriting retreat - called "Burnsong" - held in rural Scotland in December 2006. Each musician arrived with virtually no connections to or knowledge of one another.
"Together, we're such a mish-mash of personalities and styles", says Johnston, "We had no right to have gotten along as well as we did, let alone form a band and make an album! We often joke that we're the band nobody asked to be a member of."
Producer, Mattie Foulds explains that each member was allowed to contribute songs, have others tear it apart and yet still have the freedom to do it how they would have done it rather than conform to some new super dynamic; a whole that retains the sum and the flavour of its parts.
And what about the risks of coming together in such a casual and random way, wasn't there a chance it could all collapse quite easily, that they'd all be pulling in different directions musically?
"If you're playing notes all at different times, there's more of them, so people are getting more music for their money," laughs Kenny Creosote, "there can't be anything BUT musical differences as the individual styles are so diverse. You either join in if you like it or you can play it or you sit it out."
The end result is 'Side Show' - a bustling, generous carnival of accordions, acoustic guitars, sea-tossed percussion and tinkling pianos at dawn, guided by the sweetest of voices and melting into the gentlest of targets. The closest port of call is likely to be this years, Hazards of Love' by The Decemberists, the tumultuous 'Since We've Fallen Out' fleshing out the puckish Celtic fairytale with bagfuls of tough love and experience.
Leave the Band Aid to sores and bruises and invest in a more lasting cure. For burns or otherwise.

More info:
www.theburnsunitband.com


'THE BURNS UNIT ~ SIDE SHOW' OUT NOW!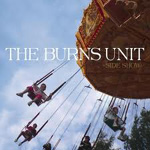 Alan Sargeant for Crud Magazine 2012©