It's now three years since her debut solo album, 'Beloved One' was nominated for a Mercury Music Prize, but in March the former Lamb singer, Lou Rhodes finally unveiled new album, 'One Good Thing'.
It's an understandably melancholy affair, charting as it does the last two years of Lou's life, from the painful loss of her sister in May 2007 (which prompted her to cancel her UK tour) and through her subsequent personal renewal. So whilst tracks like 'There For The Taking' pluck the most fragile of heart-strings and expel the faintest, most desolate of breaths, the aching isolation of Lou's voice is lifted by a 'million miles of love'. The violins weep, and beautiful, haunted simplicity of the solitary acoustic guitar strokes tears and stokes hope. Sometimes, when the sun rests lowest on the horizon it burns at it is at its most dazzling and beautiful.
The record was recorded solely in live takes with minimal editing and overdubs, reflecting the raw, open-wounds of the singer and a craving for the simplicity of previous decades.
"Most of the music I'm inspired by was either recorded years ago or uses similar old-school analogue techniques. If I had a reference point for the recording of this record it'd be stuff like Nick Drake's 'Five Leaves Left' or Nico's 'Chelsea Girl'.
For all its desolation, was there a sense of hope with the record?
"Sometimes there's one little thing that lifts you up for a moment and plugs you into all that's good in the world. There's so much in this life we can't control. All we can do is find the joy in the little things that happen to us along the way".
New single, 'There For The Taking' precedes the album and features a haunting, Nico-esque Lou wrapping her beautiful tonsils and around a tearful, cello-busting lament.
Tour dates:
21 Apr BABYLON Istanbul
22 Apr FLECHE D'OR Paris
23 Apr THE ZWERVER Oostende
24 Apr AB CLUB Brussels
25 Apr ARENBERG Antwerp
27 Apr LUX Nijmegan
28 Apr DE DUIF Amsterdam
5 May GRUNSPAN Hamburg
6 May LIDO Berlin
7 May PALAC AKROPOLIS Prague
More information:
www.myspace.com/lourhodes


New album 'ONE GOOD THING' - OUT NOW!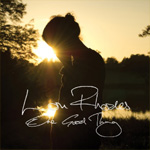 Alan Sargeant for Crud Magazine 2009©