He thought 'Steve' sounded a 'jock' and 'Steven' too bookish. To some the words 'identity' and 'crisis' might come colliding at this point as inevitably and as disastrously as the starboard side of the Titanic was to brush against that iceberg – but that still didn't stop some people crying foul play when Steven Paul 'Elliott' Smith collapsed into the arms of his girlfriend, Jennifer Chibba and died aged 34 from two stab wounds to the chest. The pair had been arguing, and Smith – already hooked on antidepressants – appears to have bowed out in the only credible fashion a troubled genius can bow out.
Whilst the earliest indicators of all this may have been that Elliott graduated with a degree in Philosophy and Political Science from Hampshire College in 1991 (your travel plans are always likely to go awry in Massachusetts – just look at the fate of American Airlines Flight 11 from Boston to Los Angeles on the morning of September 11th, if you don't believe me) some might say that his tragic ending might have been glimpsed when he started seeing white vans following him around his Silverlake home and accused his label DreamWorks of stealing his material.
But none of that really matters as I still remember Elliott as the incurably bookish character who strummed out almost inaudibly against the background of 'Good Will Hunting' the gorgeous, murmuring promise of 'Angeles' and 'Miss Misery'. Elliott's was the name I stayed behind for long after the credits started to roll and in some ways I'm still waiting for it now some thirteen years later, still waiting for somekind of completion, a gag reel, a final scene.
On November 1st 2010 Domino Records in the UK will release, 'An Introduction to ..' on CD and 180 gram vinyl. The album features fourteen tracks compiled from all seven of the Elliott Smith albums released.
As the title suggests, the record is intended as an introduction to one of the most absorbing songwriters of recent years and features a combination of rare and signature versions.
Tracklisting as follows:

01. Ballad of Big Nothing - from Either/Or
02. Waltz #2 - from XO
03. Pictures of Me - from Either/Or
04. The Biggest Lie - from Elliott Smith
05. Alameda - from Either/Or
06. Between The Bars - from Either/Or
07. Needle In The Hay - from Elliott Smith
08. Last Call - from Roman Candle
09. Angles - from Either/Or
10. Twilight - from From a Basement on the Hill
11. Pretty (Ugly Before) - from From a Basement on the Hill
12. Angel In the Snow - from New Moon
13. Miss Misery (early version) - from New Moon
14. Happiness (single version) - from Figure 8

More info:
http://www.dominorecordco.com/elliott-smith


'ELLIOTT SMITH - AN INTRODUCTION TO ...' OUT NOVEMBER 11TH 2010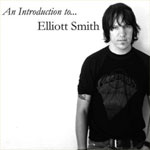 Alan Sargeant for Crud Magazine 2009©